Upgrading Your Screen Printing Press.
Clearing the Clutter
When setting up your screen printing shop, limited space is an all too familiar concern. Like Tom and Tammy, many shops and businesses hesitate upgrading their screen printing press because there's barely room for the existing press. Construction is costly, and often more complicated than knocking down a few walls. Here are a few simple ways to organize rather than restructure your space:
Take a look around and get rid of unnecessary items.
Find a designated spot to stow your tools to keep the area clean.
Rearrange your other equipment without reducing the work flow.
Organize your work area to be efficient and accessible.
Doing the Math
Now that you've freed up some space, start taking measurements of the work area. How much space is your current machine taking up? How much more space can you dedicate to your new press? Will your new press have more colors and stations than your current press? The amount of colors and stations will help determine the size of the press. Take note of door and window measurements, as these must be considered when deciding on a press and installing it.
When measuring, be mindful of the people who will be staffing the press! There needs to be a few feet around the press for the pressmen to move about. What's the use of a faster press if a cramped space is slowing down the workers? Poor planning can seriously affect your shop's efficiency and changing the process can hurt your business.
Purchasing with a Plan
Okay, so you've taken the necessary steps to maximize your work space – it's time to start shopping! Finding a press that suits your needs and meets your budget is one thing, but finding one with the right dimensions can be tricky. The last thing you want to do is drop thousands of dollars on an automatic and not be able to fit it through the door! It happens. Some presses are built more compact than others, giving the pressmen more room to work comfortably. When researching an automatic t-shirt screen printing machine, it's important to find an equipment manufacturer that offers customization to meet your specific needs. Some manufacturers have options that allow you to operate an automatic press in small spaces, such as customizable print heads or space-saving screen removal features.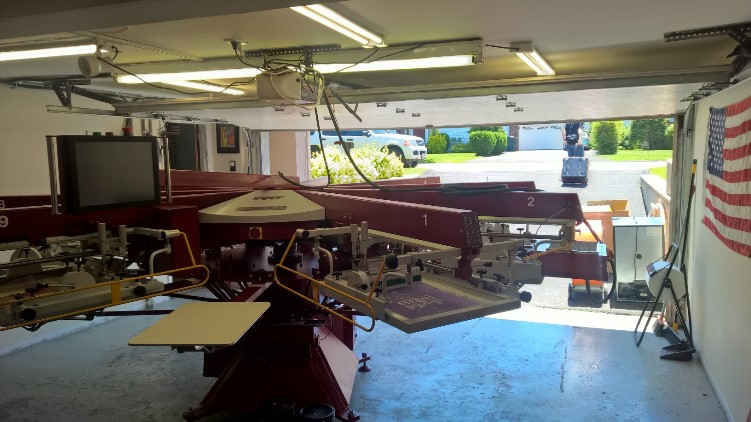 Have a salesperson assist you in determining what press configurations would be best for your shop based on the dimensions of the space. One way to save a lot of space is to consider an electric automatic press which doesn't require a compressor and chiller. If you can cut these bulky items from your production floor, you'll save space as well as money and reduce power consumption.
A lack of space doesn't mean you can't expand production. It's just a small hurdle that can be solved with proper planning and the right equipment manufacturer.
Let Anatol help you configure a press that works for your space. We specialize in custom options for shops of all sizes and our experienced sales team will find a solution that works for you.