Taking Advantage of Visual Social Media to Market Your Screen Printing Business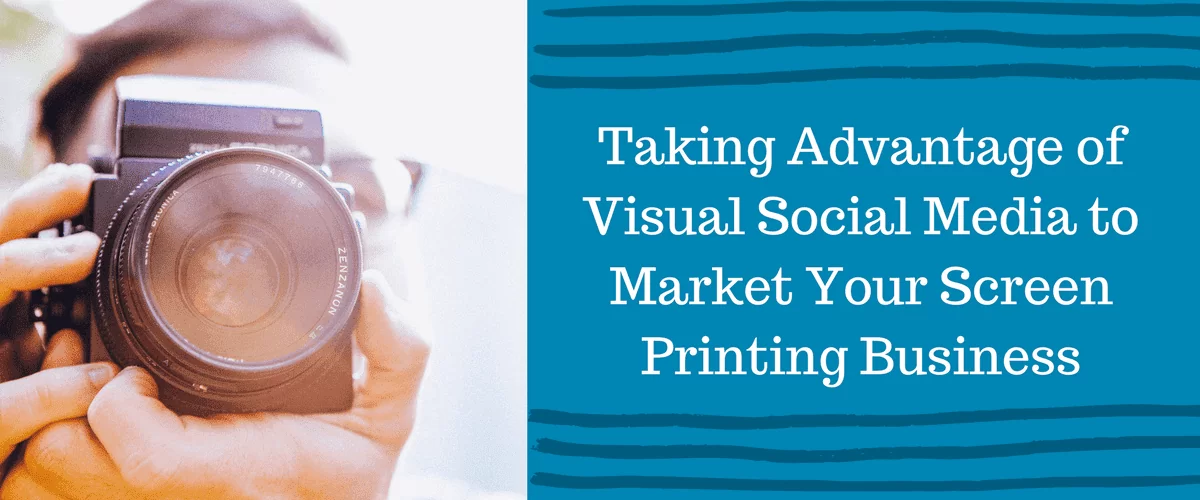 Starting a screen printing business? Don't underestimate the importance of a good name!
The right name for your screen printing business can help you market your business successfully. It lets people know what you do in a way that appeals to your target market and sticks in their minds. So how do you choose the right name for your screen printing business?
Step 1: Brainstorm for Your Screen Printing Business Name
Coming up with a name for your screen printing business begins with some simple brainstorming. Take some time to come up with a few potential names for your business. Some inspiration you can draw from include:
• Your name, nickname or a fun personal history. Having a business name that reflects who you are can be a great way to stick in people's mind and develop a business that reflects your personality.
• Your niche. What market do you plan to focus on in your screen printing business? Will you print custom artistic designs? Will you specialize in sportswear for local teams? Or  corporate branding? You'll want a business name that reflects what you do so it appeals directly to your target customers.
• Your locale. Incorporating your town name, nickname or town feature can help to identify you as a local business.
Step 2: Check Availability of Your Screen Printing Business Name
Once you have some name ideas, you'll need to make sure that your business name is available legally, locally and across the internet. To check if your business name is available:
• Perform a Google search. A simple online search will help you determine if your business name is in use. If you're focusing your business locally, a business across the country with the same name might not be a concern. If your search turns up an abundance of businesses with similar names, however, you might want to steer clear; future customers searching for you might have a hard time finding your business.
• Check your state business registry. You can't register your business with your state if the name is already taken. Check with your state, usually through the secretary of state's office, to see if there's another business registered under your preferred name.
• Make sure your internet domain is available. Your business will need a website, and you'll want a web address that's closely related to your business name. Make sure that the web domain with your business name isn't already taken. You'll want a .com domain, and steer clear of hyphens or abbreviations, as variations can confuse customers.
• Check social media. You'll need to make sure that sites like Facebook and Instagram aren't flooded with businesses of the same name. Again, your name doesn't have to be unique on social media, but if there are a lot of similarly named businesses, customers will have a hard time finding your business.
Step 3: Think about Marketing
The final element in a great business name is the marketability. You have to have a name that reflects your business and helps you to promote your screen printing services. You want a business name that you can build a brand around. To determine if your potential business name is marketable, ask yourself:
• Does the name reflect what we do? The best business names let potential customers know what they can expect from your business.
• Does the name appeal to my target clientele? If your offering custom shirt designs for local bands and artists, you'll want a fun, creative name. If you're offering promotional products for local business, you'll need a professional-sounding name.
• Is it easy to pronounce and remember? Edgy business names or names that employ creative spellings might be tempting, but if potential customers have a hard time remembering or spelling your business name, you'll likely lose business because potential customers can't remember how to spell your name or exactly what the name was.
• Can you build a brand around it? When you think of your name, can you think of how you'll use it to brand your business? Can you see it as a logo, or imagine how you'll explain your business and services and tell your brand story to potential customers or business contacts?
• Is your name consistent with your business goals? A name that very specifically states what you do or where your located might be fine if your goal is to remain in a specific screen printing niche or if you intent to exclusively operate locally. But if your goal is to branch out to other types of printing or if you plan to take your services regional or even national, a hyper-specific name could stand in your way.
In the end, your business name is a major decision! It shapes your business and sends a message to potential customers about what you do and the type of business you are. Finding the right name for your business can take time. Even if you have an idea for your business name, make sure you do due diligence and determine if the name is truly right for your business.
Want some more ideas for how to separate your screen printing business from the pack? Check out these blogs:
How to Make Your Screen Printing Business Stand Out from the Competition
Stand Out by Giving Your Screen Printing Business the Human Touch