Understanding Different Types of Fleece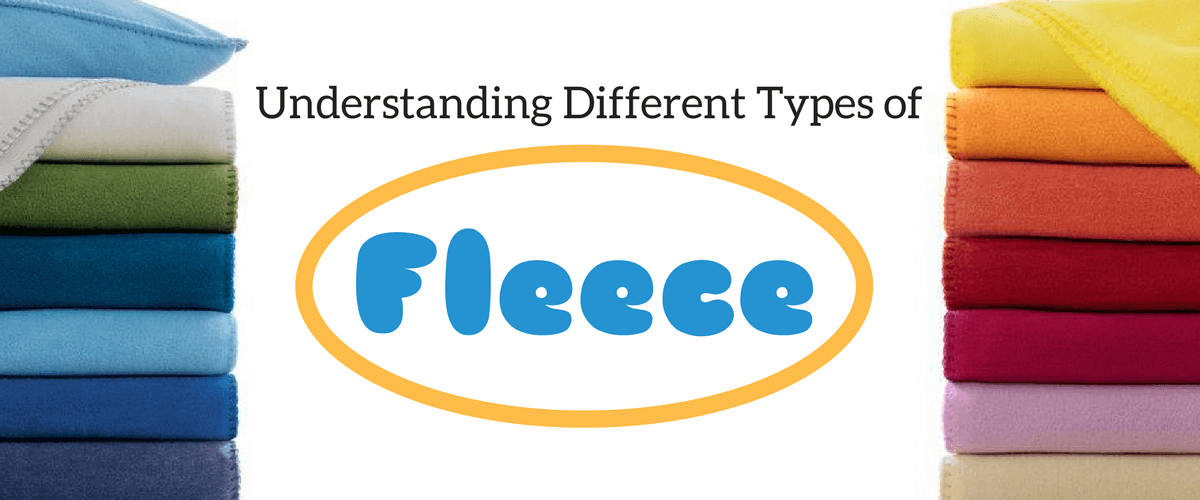 As the weather gets colder, the demand for sweaters heats up! Here's a primer on the world of fleece.
Fleece garments may be a mainstay for screen printers and garment decorators, but "fleece" can refer to a wide variety of fabrics. Here, we're breaking down the different types of fleece fabric so you have a better idea of which fleeces are best suited to your projects.
Fleece Basics
So what constitutes a fleece fabric? Fleece fabrics are knit, and then at least one side is brushed to loosen fibers and create a nap (raised surface) for a soft, plush feel. For basic fleece sweatshirts and sweatpants, generally the inside of the garment is brushed to feel warm and soft against the skin. The two-sided plush garments generally referred to as fleece are brushed on both sides.
Fleece can be made of a variety of different materials. Sweatshirts and sweatpants most commonly are made of a cotton/polyester blend, while plush fleece jackets and pants are usually 100 percent polyester. There are eco-friendly fleeces and fleeces made from recycled materials. In the end, it's the plush knit fabric that makes a fleece rather than the material it's made from.
On our website you can find a complete assortment of screen printing equipment on fleece.
Types of Fleece
In addition to being made from different materials, "fleece" fabrics come in a range of thickness and plushness. As you shop for fleece garments, you will find several types of fleece. Here are some of the more popular types of fleece:
Cotton or cotton blended fleece. The most commonly used fleece for sweatpants and sweatshirts, fleeces made from cotton or cotton blends have a smooth outer surface and a plush inner nap.
Polyester fleece. Polyester fleece garments have become increasingly popular. Like cotton or cotton blend fleece, polyester fleece is smooth on the outside and plush on the inside. Polyester fleece differs from cotton fleeces in that its smooth side has a shiny appearance, and it does a better job of repelling moisture.
Lycra spandex fleece. Lycra spandex fleece comprises a majority cotton with a small percentage of Lycra spandex to create a stretchy fabric. It's popular both for fitted women's or junior's garments and for performance fleece.
Microfleece. Microfleece is a double-sided fleece that is thin and soft. Because it's lightweight and does an excellent job of wicking moisture away from the body, microfleece is a popular choice for performance garments.
Polar fleece. Polar fleece is much thicker and warmer than microfleece. It's popular for blankets and jackets in colder climates.
French terry fleece. French terry fleece is unbrushed on both sides, so it lacks the usual fluffy nap of most fleeces. It's thinner and sits flatter than other fleeces.
Slub fleece. Slub fleece is knit from two different sized yarns twisted together. The result is a fabric with a textured look.
Sherpa fleece. Sherpa fleece is 100 percent polyester and very fluffy. It's meant to mock the look of wool fleece, and it's commonly used to line garments for added warmth.
Beyond the different varieties of fleece, you also will find fleece with specific properties. There is water-resistant fleece, which is either made from a higher concentration of polyester or specially treated cotton, as well as low-pill polyester, which is made to better retain its texture over time.
Choosing the Right Fleece
The fleece garments you choose will depend on the purpose of the garment and your customers' requests. Whatever fleece you choose, you will find that there are some challenges that come with screen printing on fleece. Most fleece garments are prone to shrinking when exposed to heat, so be careful to consider this when choosing and printing your shirts. An automatic screen printing machine equipped with a flash cure that measures garment temperature, like the all-electric Anatol VOLT paired with our Rapid Wave quartz flash unit, can help you control the heat as precisely as possible. Flash cures with temperature sensors allow you to be sure your garments aren't heated beyond a set temperature, reducing the potential for shrinkage.
You can find some more helpful tips and tricks for successfully screen printing on fleece here:
Our Six Best Tips for Screen Printing on Fleece
Types of fleece: advantages & disadvantages