Key Features to Look for in a Manual Screen Printing Press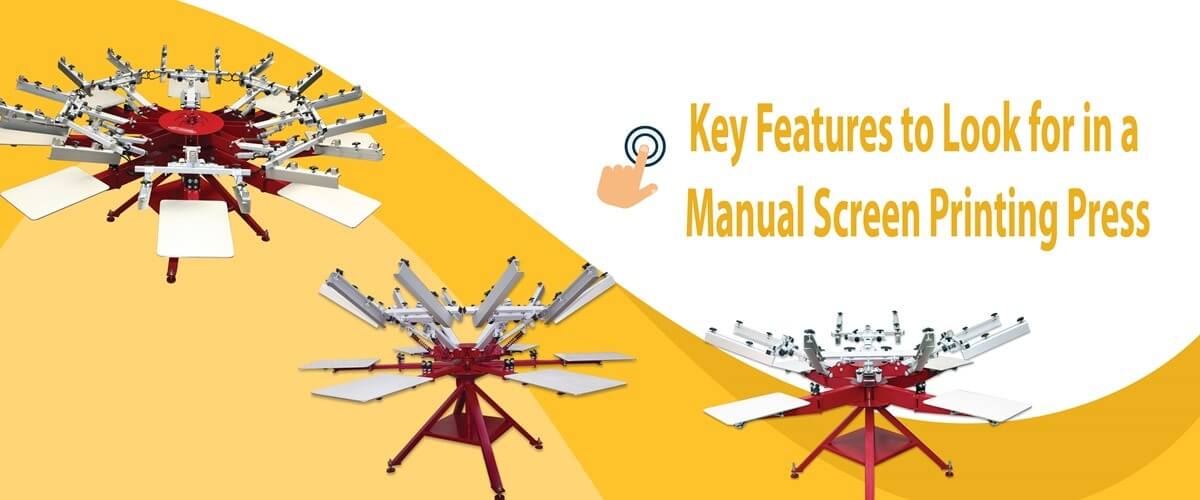 Looking to add a manual screen printing press to your screen printing shop? Learn how to choose the perfect model!
What's the best way to get started on your search for the right manual machine? Answering a few important questions will help you determine your basic needs, then digging a little deeper into key press features will narrow down your options further.
Step 1: Identify Your Requirements
The first step towards finding the right manual press for your screen printing shop is determining what you really need to meet your current needs…and to meet the growth you anticipate in the future. Answering the following three questions will get you off to a good start and help direct you toward the correct press while saving time:
What size print area do you need? Don't just think in terms of standard jobs. Often being able to print oversized full fronts or those extra long leg prints will help get you the order. Many screen printing presses are now made to handle 25″ x 36″ screens, for a print area up to 20″ x 30″.
How many colors do you need to print? Start with the typical job you do now, and throw in a good dose of "get more". Optimistic? Perhaps, but as a general rule, as screen printers grow so does the need for more colors. If it's in your budget, buy a six or eight color machine. You'll seldom hear a screen printer lament "I should have bought a machine with fewer colors!"
What size press can you fit in your shop? Space is always an important consideration. Make sure there's room in your shop for the press, your flashes, job cart, apparel boxes and other necessary supplies and equipment. For more on planning your shop layout, check out this blog post.

Anatol's Lightning and Thunder manual screen printing presses
are built tough, comfortable to operate and packed with features.
Step 2: Features to Consider
Once you've narrowed your choices down to machines that meet your basic requirements, get the most bang for your buck by comparing their features. Some key features to look for include:
Fully functional, professional gauge, up to 3-way (front/back, left/right and rotational) microregistration that has no "shims" or plastic parts to wear out.
Side bar screen clamps to facilitate press registration and virtually eliminate frame/mesh stress. If you prefer back/rear clamps, some manufacturers will offer them instead, or even a combination of side and rear clamps.
All heads down at no extra charge will allow you to print on multiple heads at the same time, given the same number of print heads and stations. Even on a 6/4 you can print on two heads at the same time. Sometimes referred to as "the poor man's automatic press" – some say it's not needed, but when you do need it, you'll be glad to have it.
Full size (16″ x 22″) rubber coated aluminum pallets cover most t-shirt/sweatshirt needs. The rubber coating allows for quick clean up and helps prevent pallets from overheating. Look for pallets with low profiles, like Anatol's Slide Style*. These allow for the quickest and easiest loading and unloading of shirts.
Superior rotational weight, without sacrificing strength. Often the claim of "built like a tank" only increases operator's muscle fatigue and reduces production. Look for a press with an ergonomic design that is both easy to use and built to last.
Compression style adjustable tension springs that will not break. Other styles of springs are susceptible to breakage and possible injury.
*It's an advantage to choose a press from a manufacturer whose pallets can also be used on their automatic machines. Also, make sure they supply a variety of different pallet sizes (youth, leg, etc.)
Your initial investment in a press will definitely be a concern, but remember there are additional costs to consider, like crating, delivery, and you'll likely need a forklift. While these are exciting times, calmly and carefully evaluate your needs and look for a press that will fit your budget and your requirements. Many manufacturers of quality screen printing equipment welcome visitors, or can provide you with a shop you can visit to see equipment in person. Take advantage of these opportunities or at least talk to an owner of the press that interests you most. Considering the points listed above and doing some careful research will help point you towards the perfect manual press.
For more information on choosing and using a manual screen printing press, check out these blogs:
Getting Started with Your First Manual Screen Printing Press
How to Get the Most from Your Manual Press (Even in an Automatic Shop)