Gear Up for Halloween with Glow-in-the-Dark Screen Printing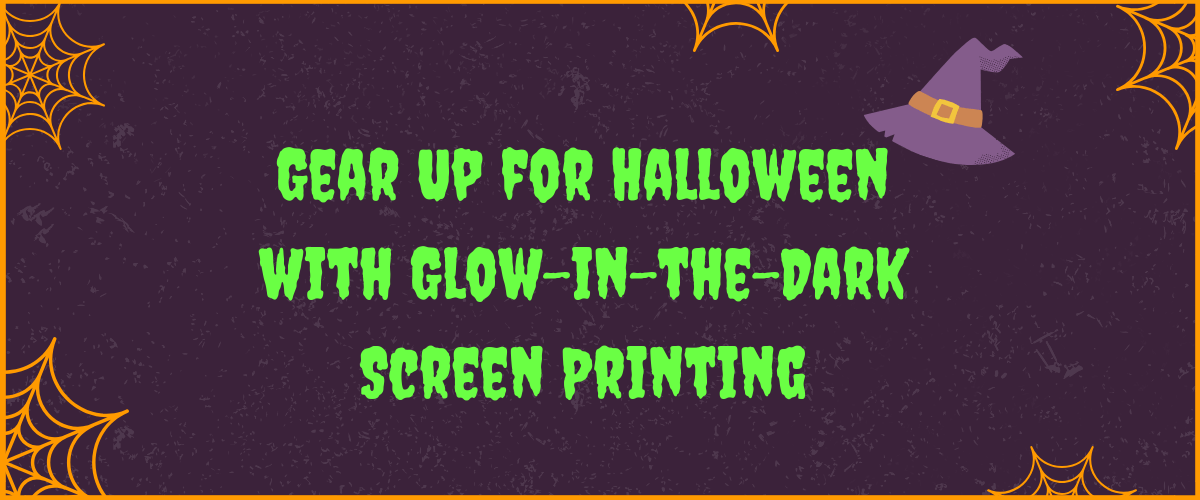 Halloween is the perfect time to experiment with special effects inks, especially glow-in-the-dark ink. Glow-in-the-dark ink is a fun addition to any Halloween-themed design, but it also works great year round as an interesting accent or safety feature, or as an element for evening events like nighttime "glow" runs. As far as special effects inks go, glow inks are pretty easy to work with, though you will need to follow some tips for successful glow-in-the-dark screen prints.
1. Know that you will have to mix your inks
You can buy either "ready to use" glow-in-the-dark inks (in plastisol and water-based varieties) or glow additives to prepare yourself, but whichever you choose, keep in mind that you'll have to mix thoroughly before use. While your glow ink may be marketed as "ready to use" right out of the container, for best results you should give it a good mixing both before you begin your print run and during your print run if the ink has been sitting for a long time. It's always a good idea to follow your ink manufacturer's instructions for mixing your glow inks, but remember that these are guidelines and the best results may take some trial and error to achieve. Typical glow-in-the-dark screen printing ink comes in whitish or clear formulas that produce a green glow, but many other color options are also available. While some glow-in-the-dark formulas can be mixed with standard colored inks, know that using colored inks or ink pigments can negatively affect the vibrancy of your glow-in-the-dark print.
2. Use a lower mesh count screen
The phosphorescent particles that make ink glow in the dark are coarse. You'll need to use a screen with large enough openings to allow the particles to pass through onto the substrate for an adequate deposit of glow-in-the-dark ink. Your ink manufacturer might recommend a specific mesh count, but generally glow-in-the-dark inks are best suited to spot color prints through 110-count mesh or similar. However, if you notice the consistency of your glow ink is thin and it tends to bleed when printed through coarse mesh, try using a higher mesh count screen.
That's not to say finer details are impossible to achieve! Take a look:
"We use a highlight black in the last position to recapture detail in case we get bleed from the glow – a very light, fast stroke that is not noticeable on the shirt. Glow inks can be thin and in order to get them really bright we will do three passes of a white base, then three passes of the glow color. Even on a high mesh the thin glow will want to bleed the finer details, so the highlight black is a little trick to keep it all sharp." – Stephen McCarthy, New Republic Printing
3. Print a white underbase
An underbase is a must when screen printing glow-in-the-dark ink. A bright white underbase will reflect the glow-in-the-dark effect, making it appear even brighter. It's a good idea to use a white underbase even if you're printing on a white garment, or if you're only using glow-in-the-dark ink as a highlight. If you choose to forego an underbase for design reasons, be prepared for the fact that your ink won't glow as brightly.
4. Be careful not to over-cure
Over-curing glow-in-the-dark ink is a real concern, as too much heat can interfere with the phosphorescence and dull the glow. While the curing process for glow ink is essentially the same as for standard ink, take into account that glow-in-the-dark prints can require a thicker ink deposit than regular prints to produce the best glow effect, and adjust your curing time and temperature accordingly.  As always, follow the ink manufacturer's instructions when curing and be careful not to expose your prints to any heat in excess of what's necessary for a full cure (for plastisol, that usually means 320°F). Keep an eye on your curing temperatures and measure frequently to prevent over-curing or scorching.
5. Take great photos
One of the biggest challenges of screen printing with glow-in-the-dark ink happens after your prints are complete: How do you take a great photo of your finished product? Start by fully charging your glow-in-the-dark ink by placing your finished garment in bright sunlight or under UV light for 20 to 30 minutes. Have an area set up for photographs and, with the lights on, position your garment and set up your camera on a tripod or other solid surface. Use a setting that's geared toward long exposure. Focus the camera, turn off the lights and snap a few shots.
Glow-in-the-dark ink provides a fun, unique effect without the need for any specialty equipment beyond your regular screen printing setup. And fortunately, the learning curve for screen printing with glow-in-the-dark ink is fairly tame once you know a few of the tips and tricks to employ. So if you're looking for a way to make your prints stand out, give glow-in-the-dark ink a try!
Looking for some more tips on screen printing with specialty inks? Check out these blogs:
How to Get Started with Specialty Inks
Screen Printing that Pops: Getting Started with Metal Flake Ink
Add an Extra Dimension to Your Screen Printing with Puff Ink