Tips for Having a Great Trade Show Visit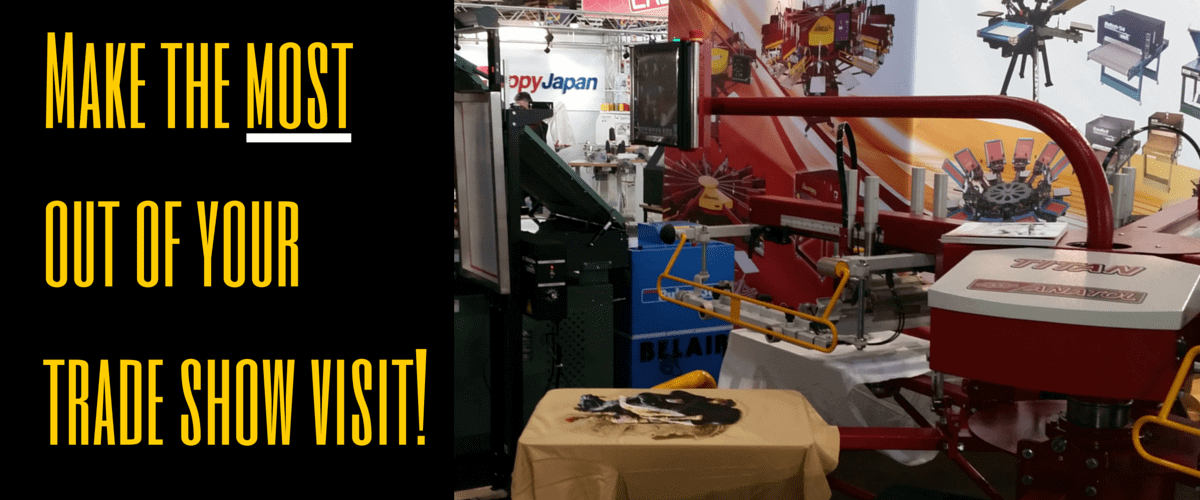 How to make the most out of your trade show experience.
By researching and deciding what you want to get out of your trade show experience before you go, you can focus on learning about what matters most to you and your business. In order to get the most out of your trip, it's important to have a plan.
Why Do You Want to Visit?
Before you make arrangements to attend a trade show, ask yourself: what do I really want to get out of the experience? Is there a new piece of t-shirt screen printing machine you want to check out? Do some research before the show to find out what exhibitors are attending and what products they're bringing along – the show will most likely have this information available online. A trade show is a great opportunity to see machines in action that you might not be able to see anywhere else. By planning out what booths you're most interested in visiting, you'll be sure to have enough time to see everything on your list.
A trade show isn't just a great place for your equipment and supply manufacturers to show off their gear, it's also a great place to promote your own business. Take advantage of being among your peers and form some relationships! By networking, you can get a better idea of the types of services and equipment other screen printers and manufacturers are offering. And it's never a bad idea to have a friendly colleague or two nearby for support. The screen printing community is pretty close-knit and you'll find printers are usually willing to help each other out. You should also use your time to form new or refresh old relationships with your suppliers. A trade show is an excellent place to take the pulse of the industry and get a feel for where it's headed.
Which Show is Right for You?
When searching for apparel decorating trade shows, you might find yourself bombarded with acronyms: SGIA, ISS, DAX, NBM. These organizations put on some of the biggest events in the industry. However, some are more appropriate to certain types of printing than others. You probably don't want to waste your time visiting a show that's heavily embroidery-based if screen printing is your method of choice (unless you're interested in expanding to other styles of decoration). Check out the list of exhibitors to find out which shows are geared more towards your business.
Plan Your Trip
It can be easy to lose track of time at a trade show, especially a big one! With so many exhibitors, there just might not be enough hours in the day to see everything and meet everyone you want to. Most shows will have a floor plan available online, so take some time before the event to map out must-see booths. Remember that trade show booths are busy places; in order to make sure you get a chance to speak with exhibiting representatives, try to make appointments before the show. Even with an appointment, it's a good idea to prepare a list of your most important questions to be sure you make the most of your conversation.
Screen printing trade shows are perfect learning opportunities, not just on the show floor, but also in seminars offered at many events. No matter how long you've been in the industry, there's always more to learn. If you've got the time, try to fit a seminar or two into your schedule. It's a great way to add new talents to your screen printing repertoire, or brush up on the skills you already have.
Try to find a show that balances a convenient location with a good number of exhibitors relevant to your needs. Make plans as far in advance as possible; you don't want to travel to a show and find out the nearest available hotel room is the next state over! Check the show's website – you may be able to get special rates on nearby accommodations. Before the show begins, read over the attendee policy to find out what you are and aren't allowed to bring on the trade show floor.
Now that you've got your plan in place, you're ready to have a worthwhile trade show visit. And don't forget one of the most important tips: have fun!
If you're interested in seeing Anatol equipment in action, you can find a list of shows on our website where our screen printing machines will be featured.