A Starter's Guide to Decorating Team Sports Apparel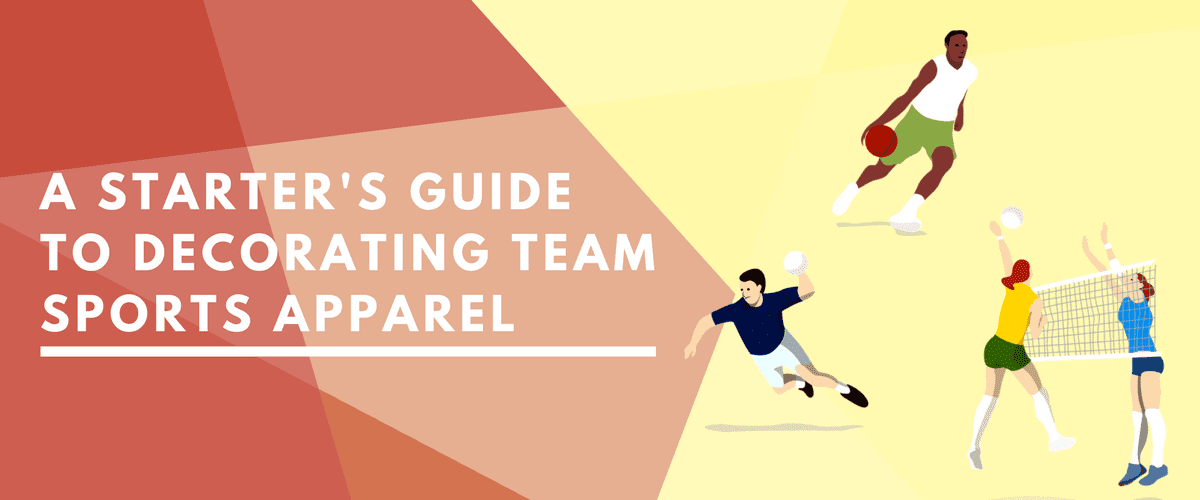 Team sports are lucrative opportunities for apparel decorators. Here are some tips to help you take advantage of this market.
For screen printers, team apparel can generate big business. From local school sports teams to rec leagues to local colleges and universities, there's plenty of business to be had. Contracting with a team can result in repeat business, year after year, and it brings more than just jerseys: Think warm-up gear, hats, team jackets and fan apparel. So if your screen printing shop isn't already churning out team apparel, it's something you should be looking into.
Ways to decorate team apparel
Creating personalized team gear, with names and numbers for players, might seem like a cumbersome proposition, but there are several ways to create personalized sportswear quickly and at a reasonable cost. The primary ways of adding names and numbers to sports team apparel include:
Purchased heat transfers
One of the easiest and most cost-effective ways to apply names and numbers to sports jerseys are with purchased heat transfers. You can by letters and numbers to keep on hand to apply to jerseys or other team gear as orders come in. If you want to add a bigger lineup of fonts to your offerings, and save the time of positioning all of the letters in a name, you can order custom-made heat transfers as teams place their orders.
Vinyl-cut heat transfers
If you plan to do a lot of customized team apparel in your screen printing shop, you might want to look into purchasing your own cutter for producing personalized heat transfers to fill your customers' orders. This allows you to produce customized transfers without waiting for orders from a heat-transfer supplier while still offering a range of fonts and colors to your customers. You do have to factor in, however, the amount of time it takes to cut and weed transfers by hand.
Screen printed transfers
You can, of course, create your own heat transfers by screen printing logos, letters and numbers to specialized heat transfer paper. This comes with the added benefit of being able to customize transfers with multiple colors or custom-designed logos. However, while screen printing your own heat transfers can be very cost effective and provide your customers with plenty of options, it can be time consuming.
Screen printing with stencils
If you want to use your screen printing press to customize athleticwear, that's a possibility, too. Paper stencil, which can be purchased through many screen printing suppliers, allow you to print numbers directly onto apparel on your regular screen printing press. The stencils are place directly on the garment, and you print using an open screen right over the stencil.
Specialized printing presses
Another option for shops who plan to do a high volume of customized team apparel is a screen printing press designed just for the job. There are traditional carousel presses that come with specialty screens that allow for the quick printing of names and numbers directly on to athletic jerseys.
Tips for decorating team apparel
Once you decide how you'll decorate your team apparel, there are a few tips that can help you to produce quality prints and better market your team apparel.
Stay on top of industry trends
The world of athleticwear is constantly evolving. New materials and new fits are constantly coming on the market. While your local Little League teams might be content with traditional cotton tees, local high schools, colleges and serious athletic squads will be looking for the latest and greatest in team apparel. Know what's new and what's on trend so you can make the best recommendations to your customers and potential customers.
Know the challenges of the medium
A lot of athleticwear comes with challenges when it comes to customization. Synthetic fabrics might scorch or cause dye sublimation. Stretchy materials might warp, and light materials can get weighed down with a heavy print. Make sure you're adjusting your decorating style to meet the challenges of your substrate.
Never forget to offer add-ons
A team might come to you looking for customized jerseys, but never miss an opportunity for the upsell. Jerseys might be their priority, but they might also consider water bottles duffle bags, sweatpants or team jackets. Parents might want team-logoed T-shirts, sweatshirts or hats. Even if the team doesn't want to make a bulk purchase of additional apparel, they might be open to offering order forms or advertising an online store to allow athletes or their families to purchase additional merchandise.
Don't be shy about targeting teams
The market for customized team apparel is a competitive one because it stands to bring large orders, the opportunity for added sales and printing jobs year after year. To break into the market, you have to get out there and advocate for your business. Find contact information for local teams, leagues and schools, and make phone calls to offer your services. Make sure you know what value you'll bring to the organization before you call: Will you offer higher-quality wear, lower prices or a wider range of goods?
Grow your business with team apparel decoration
There is an additional investment that comes in offering team apparel decoration, whether that investment comes from purchasing new equipment for the job or allocating additional marketing resources to go out and find clients. In the end, you stand to gain a lot with decorating team apparel. It can help you attract new, regular clients to grow your business in your local market.