Want to get started making money from your screen printing passion? Here are some tips for going pro!
It's a natural step, but you'll want to prepare yourself; there's a difference between printing shirts for fun and printing them for money.
Start with a Plan
Before making the jump from hobby to business, you have to consider the move from all angles. Every successful business starts with a plan, and screen printing is no exception. Writing out a business plan isn't only necessary if you're seeking financing; it'll give you a better understanding of how to organize and operate your business as successfully as possible. Identify your goals, your target market, your planned day-to-day operation and the structure of your business. Your local chamber of commerce or community college should be able to help you develop a written plan to get you moving in the right direction.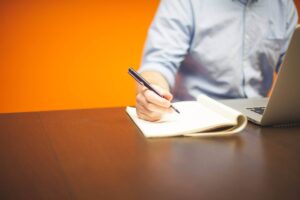 Getting a plan down in writing will help guide
your potential business toward its goals.
Keep Supplies on Hand to Meet Demand
When planning your shop's day-to-day operation, you'll have to figure out where you're going to get your screen printing materials. If you're a hobbyist screen printer considering turning pro, keep in mind you'll probably be printing in much higher volumes than you're used to. Buying a single garment from a department store and decorating it isn't going to cut it if you want to make money screen printing. To handle customer demand, you'll need an inventory of shirts and supplies. This means forming relationships with reliable wholesale vendors to keep your business well stocked. Buying essentials like ink and emulsion in bulk will save you money and ensure you're able to print orders when you get them, instead of making your customers wait while you special order the right supplies.
The Right Machine for the Job
If you want to increase your volume of work, you'll need more than just the right supplies. You'll also need the right equipment. If you've been screen printing as a hobby, chances are you're using a small, lightweight one or two color manual press. A more substantial, professional grade screen printing machine is required to fill big orders. That doesn't mean breaking the bank – if you're just starting out, there's no reason to buy more machine than you know what to do with. You'll probably want to start with a high quality manual machine; an automatic screen printing press is probably overkill unless you're positive you have enough reliable business to justify the expense.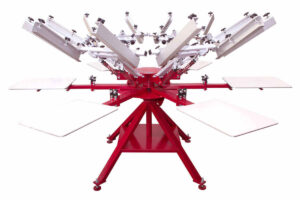 The Anatol Lightning is a truly professional grade manual
press that's a great place for new pro screen printers to start.
A six color machine is a good place to start, being versatile enough to handle a wide variety of printing challenges. It'll allow you to print four color jobs with a flash cure and a print head reserved for white ink (necessary if you want to print an underbase). Don't just consider your immediate needs; think about where you want to go in the future and find a press your business can grow with. And a press isn't all you'll need! You'll also need a professional grade exposure unit and conveyor dryer to take your screen printing from hobby to business.
Perfect Your Screen Printing Technique
Even with the right supplies and perfect equipment, your business can only be successful if you have good technique. Messing up one shirt as a hobbyist was frustrating enough; you don't want to mess up hundreds as a professional! You have to be comfortable with your screen printing ability to be confident you can deliver quality products to your customers. Consider taking a class or even apprenticing at another shop to perfect your technique and gain industry experience before starting up your own business. Some classroom or business experience will give you a better idea of what to expect when you strike out on your own.
Find a Work Space
Before you start shopping for all the gear a budding professional screen printer needs, there's another question to ask yourself: where are you going to put everything? Plenty of screen printers work from home. It can certainly be a viable option for you if you've got the space, just make sure it's legal where you live. Familiarize yourself with all applicable laws and regulations that may affect your business, whether you decide to work from home or get a dedicated screen printing space. Consider your equipment – not only the area you'll need, but also the power. Can your space handle the electrical (and gas, if your dryer needs it) requirements of your setup?
Wear Many Hats
Once you've settled on a space, you can't just open your doors and expect customers to come rushing in. You've got to go out and find them. As a hobbyist you were a printer only, now you've got to be a marketer and a salesperson also. You need to identify your target market and plan a strategy for reaching them. Create awareness for your shop by attending networking events and visiting local businesses, schools and clubs – and don't forget to bring along samples of your best work! Creating an online presence with a simple website and active social media accounts will make it easier for potential customers to find you. But a website won't bring in the business you need by itself, you've got to go out and find it! Developing a niche – focusing on one strength or specialty – is a good way to separate yourself from the pack and attract customers.
It might sound overwhelming at first, but if you think it through carefully, you'll find it's not a giant leap between a screen printing hobby and business. In fact, that's how many professional screen printers got started. If you're a hobbyist printer, you've already got one of the most important qualities you'll need: passion. Everyone dreams of making money doing something they love, and with solid planning and dedication you can make it happen.
Here at Anatol, one of our specialties is helping new business owners get started with a professional equipment setup that will meet their needs not only immediately, but also further down the line. We make quality gear for printers of all levels – so if you're ready to turn pro or just curious about what a starter shop setup might look like, let's talk screen printing!