Screen printed labels can add an extra touch of professionalism to your products.
If you've got multiple designs under one brand, adding custom labels to your garments can make the product line more cohesive. But before you start printing tags, there are some important things to consider.
The Best Shirts for the Job
If you decide to offer custom relabeling, it all starts with the shirts. The garments you'll be printing will come with tags from the manufacturer, which you'll have to remove to make way for your own labels. Only certain types of shirts will work for relabeling. They can't have neck labels already printed – instead look for shirts with tear-away tags that you can remove easily. Shirts with sewn-in tags will work too, but removing them can be difficult and time-consuming, and you run the risk of damaging the garments.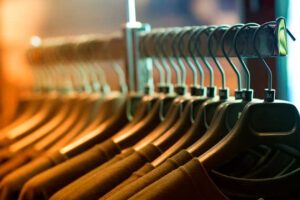 What to Include in Your Tags
The next thing to consider is the content of the tag itself. Depending on your location, you may be required by law to provide certain information about the garment on the tag. General guidelines for the information you should include are size, fabric content, country of origin, care instructions, and company name or registered identification number. Make sure the content of your tag meets the legal requirements in your country. The basic idea is that the information you removed with the manufacturer's tag should be reproduced in your design.
Tips for Successful Label Printing
When designing your tags, keep in mind the substrate you'll be printing on. If it's a light-colored garment, a dark neck label will show through the back of the shirt. Choose a color with enough contrast to be seen clearly on the shirt, but not dark enough to show through. Light grey is a good choice for printing on white shirts. Neck labels can be irritating, so you'll want to use the smallest amount of ink possible for the softest hand. Water-based ink is ideal for printing neck labels because it leaves a more comfortable print than plastisol, but be aware of the challenges of printing water-based ink on dark garments.
Whether you'll be designing the label artwork or accepting it from customers, set some guidelines for the size of the print; a 3-inch square is a good starting point. That small of a design calls for screens suited to printing fine details – 230 mesh count and above is recommended. Take into account that you'll need separate designs for each different size (S, M, L, XL, etc). Because of the small print area, you may be able to fit each design on a single screen, saving yourself the time and effort needed to set up multiple screens. Remember that the quality of your print is directly tied to the quality of your stencil, especially when you're printing fine details. So take extra care preparing your screens!
The Right Screen Printing Machine Goes a Long Way
Not convinced relabeling is a good opportunity to grow your business? It's understandable – you may not want to tie up your main screen printing press with relabeling jobs when you could be using it to print bigger money full-size projects. If you've got a manual press, printing labels might not sound like a worthwhile use of your time and effort. Not to worry – there's another option! There are automatic presses designed specifically for printing on small substrates, like the Anatol Prodigy. The Prodigy is built for printing small-sized jobs with maximum speed and consistency, so you can offer a unique service while keeping your production high. No matter what screen printing machine you plan on using, you should be able to find pallets to make printing tags easier – pallets designed for small substrates like sleeves should work perfectly.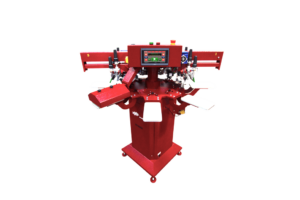 The Anatol Prodigy automatic screen printing machine
is built specifically for small-substrate printing like tags
Clearly Communicate to Keep Your Customers Happy
Offering custom relabeling can grow your business by providing an extra service that may not be an option at competing shops. Like any other service you offer, in order to make the process as smooth as possible it's important to clearly communicate your capabilities and requirements to your customers. Let them know the type of garments acceptable for relabeling and the suggested artwork size and color. You may need to adjust your turnaround time to accommodate relabeling – if so, clearly state this to your customers. Be up front about additional charges for removing tags and printing new ones. As with all aspects of screen printing, if your customers know what to expect in advance, keeping them happy should be a breeze.
Interested in how Anatol can get you the perfect equipment to get started printing custom labels? Let's have a conversation about expanding your printing possibilities.