How to Identify Your Target Screen Printing Market…and Expand to New Markets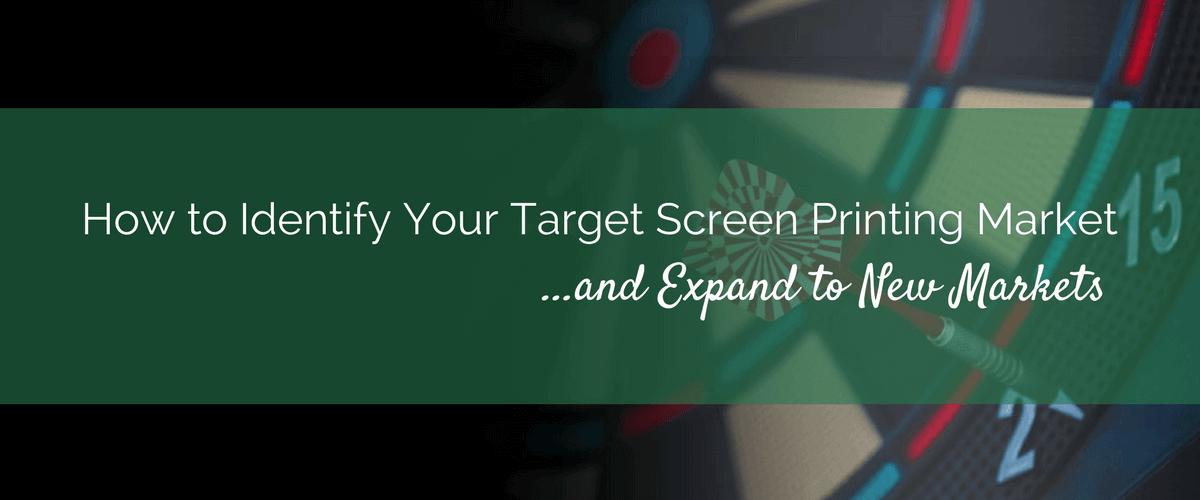 In order to market your screen printing business effectively, it's important to understand your audience!
Understanding who your customers are allows you to target your marketing effectively, getting the biggest return on the investment for the time and money you spend marketing your business. Once you learn the tricks of identifying and appealing to you target market, you can grow your business by expanding to new markets.
Identifying Your Target Market
Identifying your target market begins with knowing who your current customers are and why they're coming to you to fulfill their screen printing needs. Are you filling orders for a lot of youth sports teams? Are businesses seeking out your shop to purchase branded goods for their own marketing purposes? Do you print custom designs for local artists? The easiest way to identify your target market is to take stock of your existing customer portfolio. Look through your orders and customer files to see what types of customers are placing the most – and the largest – orders.
Once you know which types of customers you're attracting and what they're ordering, you have to understand why your customers seek you out instead of doing business with another print shop. Do local teams seek you out because you print on the top-of-line performance garments that have dominated the sports market? Do companies do business with you because you provide graphic services that help them create professional logos, or because you provide a variety of printed items that are perfect for gifting to corporate clients? Do local artists come to you because you're devoted to working with them to create prints that realize their artistic vision?
Understanding who you're doing business with and why they come to you can help you create a marketing plan and a marketing message that appeals to them and to people or businesses like them that you can convert into new customers. Knowing the demographics — age, gender, income level, hobbies, lifestyle, etc. — of your customers helps you to create a marketing plan that's likely to reach them, while knowing why those customers seek out your business can help you to create a marketing message that's likely to appeal to them and potential customers like them. That is, when you know your customers, you can create a marketing plan that targets advertising in media they are likely to see and with a message that makes it clear why your customers and potential customers will benefit from doing business with your shop.
Expanding to New Markets
Once you understand how to identify a market and how you can fulfill the needs of that market, you can expand your business by appealing to different target markets. If you're ready to seek customers out in different sectors, there are a few ways to identify different markets that would benefit from your service.
One of the easiest ways to expand to new markets is to consider what you're existing customers are seeking from you and determining if there are other markets with similar needs. If you provide promotional materials to a lot of local doctors' offices, for example, good target markets could be hospitals, clinics and even veterinarian offices. Because they're similar fields, they'll likely seek the same professional designs, substrates and even novelty medical promotional products you provide.
Investigating your competition also can help you to find new markets. Do some research to see which types of products and services your competitors market and who their typical customers are. The goal is to identify markets your competitors are targeting and determine what those markets' needs are. Targeting markets with products and services that your competitors aren't providing can help you to carve out your own lucrative niche market.
Finally, you can find new markets by exploring your own interests. Are you an avid outdoorsman? Why not focus on providing printed garments to outdoor outfitters or events that cater to outdoorsman? You have insight into the types of garments and prints outdoorsmen seek. Do you spend your weekend enjoying local bands? If you know the players on the scene, why not target the local music scene with your band t-shirts and promotional materials?
Growing Your Business with Targeted Marketing
Sure, you can run your screen printing business by offering general screen printing services to the general public, but you'll be scattering a broad message to a very broad group. Successful marketing comes down to knowing what you're selling to whom. Knowing who your target market is and what their needs are helps you to send a clear message about how your business can meet their needs. When you focus on marketing to your target audience, you can grow your business by sending a clear message to your existing customers and potential customers about what they stand to gain by doing business with you. And once you understand how to identify and appeal to a target market, you can grow your business further by expanding to new target markets.
Want some more ideas on how to give your screen printing business a boost? Check out these blogs:
Make Your Screen Printing Business Stand Out from the Competition
7 Ways to Grow Your Screen Printing Business