How to Get Started Creating Custom Decorated Pants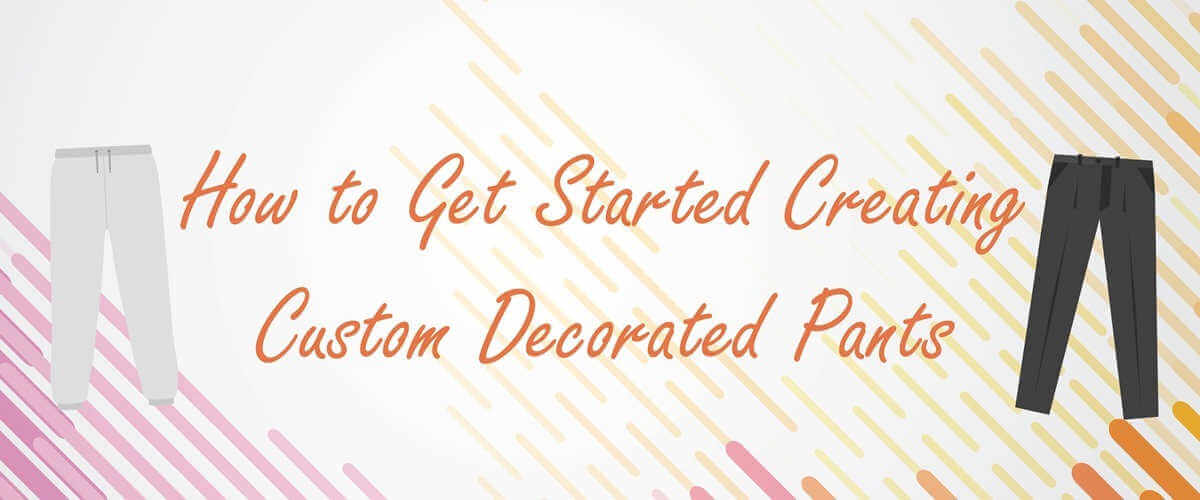 As a screen printer, you know there's a huge market for custom shirts. But pants can be a great opportunity too!
With little additional equipment, you can create custom decorated pants. The process for decorating pants doesn't differ much from laying down prints on shirts. Decorating pants can be done on your screen printing press or as a heat transfer, and it takes only a few additional considerations to lay down a custom print on pants.
Choosing Your Location
When it comes to laying down a print on a shirt, the print location is straightforward: Usually the design is placed on the front, back or chest, with a few special requests for printing down sleeves or in another unusual spot. With pants, you have a lot of options when it comes to print locations. Some possible locations for embellishment include:
Hip. The front hip is a common location for team logos or athlete's names and numbers. The sizing is usually similar to a chest print on a shirt.
Leg. Vertical leg prints are always popular. You do have to remember that how long your leg print is will be determined by the size of your screens; you might have to lay down a vertical print in two steps if you want it to cover the entire leg. With a vertical print, you also might have to make screens with the print in varying sizes to accommodate different sized pants. Heat transfers can be a great option when looking to create large prints down the legs of pants.
Rear. While not as trendy as they once were, images on the rear of the pants continue to be common, generally for women's apparel. Keep in mind that your artwork will need to accommodate the center seam.
Bottom hem. If a customer is looking for a unique option for a pant design, the bottom hem, especially the back bottom hem, might be the answer. These designs usually need to be bolder, though, to be sure they stand out.
Waistband. Certain pants, particularly yoga pants, might allow you to print on the waistband. If you choose to go this route, small prints on the front hip are popular, as are bolder prints along the back of the waistband.
Knees. Knees can be a fun place to put a print, especially for kids' pants. However, it might take some determination to find the right spot on all of the sizes of pants.
Setting Up Your Press
Pants do have some special needs when it comes to printing. The exact needs might depend on the type of pant, while other setup considerations are universal. Some things you might need to do when printing on pants include:
Use a special pallet. There are pallets specifically designed for printing on pants and long sleeves. If you're already printing logoed long sleeves in your shop, you might already have the pallet you need for decorating pants.
Lay down more ink. Nearly every type of pant demands a heavier ink deposit. Make sure that you're creating a thicker stencil and using the proper screens and squeegees for your pant material.
Put down enough adhesive. Most pant materials, from fleece sweatpants to polyester athletic pants, are prone to shifting on the pallet. Use ample adhesive to avoid ghost images. A web adhesive is recommended for fleece.
Alter your inks. Some materials might call for ink additives. When printing on yoga pants or leggings, for example, you will want to add a stretch additive to your ink so that the print will expand with the pant without cracking.
Protect against shrinkage and dye migration. Many pants, such as polyester warmup pants or spandex yoga pants, comprise synthetic fabric that is prone to shrinkage or dye migration. When printing on those materials, you might want to pre-shrink your printing surface under your flash cure unit and lower your dryer temperature to fight against dye migration.
Selling Your Decorated Pants
Once you try screen printing, or laying down heat transfers, on pants, you will find you've added a popular product to your shop's offerings. Decorated yoga pants, sweatpants and athletic pants are a great upsell to your existing customers, and they can help you attract new customers who are looking specifically for pants decorated with their custom images.
Looking for some other ways to expand your screen printed offerings beyond t-shirts? Check out these blog posts:
Best Practices for Screen Printing on Hoodies
Grow Your Screen Printing Business by Expanding Your Product Line
Expanding Your Screen Printing Horizons with Hats and Posters