There's no shortage of options when it comes time to choose a conveyor dryer. Learn how your ink choice and work rate affects your decision!
There are a few questions that will help you narrow down your options:
Where is your shop located? Is it in your home, your garage, an industrial shop or a retail environment?
Can you meet the electrical and/or gas requirements of the dryer?
Are you running a manual or an automatic press? Will the dryer be able to match the press's production rate?
Carefully considering these factors is essential to selecting a dryer that will meet your needs. However, there's another less obvious question that influences your dryer's work rate, and with it your purchasing decision:
Do you intend to regularly print with water-based and discharge ink?
Electric Conveyor Dryers: A Versatile Option
Most electric dryers, like the Anatol Solutions, with belt widths from 24 to 36 inches and heat chambers between 4 and 6 feet long, are purely infrared. Since infrared heat radiates through the air to heat objects like the ink on your shirts (and the shirts themselves), it is most efficient for curing plastisol ink. Infrared heat does not heat the air (that's convective heat, which we'll cover shortly), but the objects below it.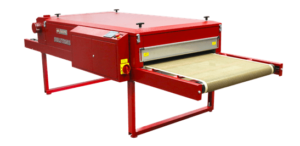 Anatol Solutions electric conveyor dryer
The actual throughput of garments with plastisol prints varies depending on a variety of factors. Here's a general idea of what you can expect:
An electric conveyor dryer with a 24″ wide belt and a 4′ long heat chamber will likely average a throughput of 150 pieces per hour.
An electric conveyor dryer with a 36″ wide belt and a 6′ long heat chamber would likely average a throughput of 600 pieces per hour.
Please note that these lengths include the ovens only, not the infeed and outfeed.
As gas isn't always available, many major manufacturers offer electric dryers with extended lengths and internal air circulation. Air circulation assists the evaporation process necessary for properly curing water-based and discharge inks. Without the extended length, throughput of these types of garments would likely be less than half of what you'd experience with a standard length electric dryer.
Gas Conveyor Dryers: Efficient and Effective
Gas dryers like the Anatol Vulcan are the consensus pick for curing water-based and discharge inks. By its nature, gas heat is convective. The heat is transferred to the air, as well as to the apparel, ink and any other object it comes in contact with; an insulated chamber does more than keep the outside of the dryer cool to the touch, it also increases efficiency by keeping the heat inside where it belongs. The efficiency of a gas dryer, coupled with the low cost of natural gas, means it can quickly pay for itself if you've got consistent work for it to do.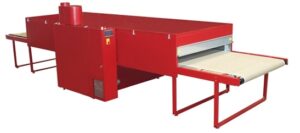 Anatol Vulcan gas conveyor dryer
As new technology and engineering is introduced, dryer designs are re-examined and new elements are added. There's only so much air you can run through a conveyor dryer before it becomes counter-productive. In an effort to improve throughput, more focus is being placed on improving evaporation and air replacement in the heat chamber.
Remember that even with careful planning, eventually you'll outgrow your conveyor dryer as your production increases. As you search for a dryer, look for a model with the throughput to handle your current production needs plus a little more. Some manufacturers offer modular units to which you can add additional heat chambers as your needs change. Many manufacturers also accept trade-ins towards an upgraded conveyor dryer. You never know how big your screen printing dream may grow!
Looking for more ideas on how the right conveyor dryer can improve your shop's production? Find out how your dryer settings can help you cure difficult jobs – check out this blog post:
Getting the Most out of Your Screen Printing Conveyor Dryer to Cure Challenging Garments
Or check out our free eBook: How to Choose the Right Conveyor Dryer