High Performance Screen Printing: Taking Advantage of Silicone Ink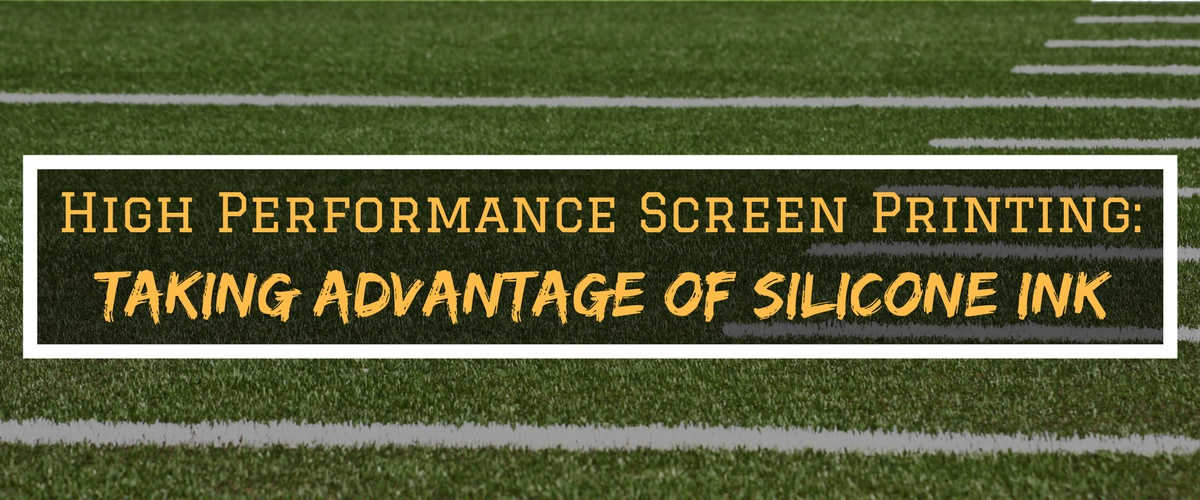 When you're looking for screen prints that really perform, silicone inks can give you the edge you need.
What Gives Silicone Screen Printing Ink an Edge?
Suitable for most flexible garments, even four-way stretch and sublimated fabrics can be printed with silicone inks for soft, crisp and durable images. Without going into all the chemistry, silicone inks are so elastic that the print may be stretched multiple times and will still retain its original form. Their flexibility gives silicone inks an edge over other types, and because it's a developing technology, there's plenty of untapped potential applications.
Silicone inks cure at lower temperatures (250 to 280 degrees) which helps limit dye migration. Some silicone inks perform better when the pallets are pre-warmed. Most silicone inks are considered environmentally friendly and don't contain any PVC, phthalates or formaldehyde.
Things to Consider Before Getting Started with Silicone Ink
While silicone inks have definite advantages over plastisol and water based ink (especially on difficult substrates), there are a number of things to consider as they require special handling compared to other inks. Silicone inks are currently more expensive than plastisol or water based.
Coat your screens with a high solids emulsion. Since a thick coat works better, spread at least two coats on each side of the screen. Your last coat should be on the side of the screen that will make contact with the squeegee. Capillary or thick film measuring at least 100 microns can also be used.
Whether it's a standard spot color or a clear, opaque or white base mixed with concentrated pigments, you'll need to add a catalyst before printing. Catalysts are usually added by weight, so check your ink manufacturer's recommendation. Mix only as much ink as you think you'll need. Catalyzed ink can't be added back into the bucket of uncatalyzed product. After opening uncatalyzed ink it's important to tightly seal the container. When stored properly, silicone inks will have a shelf life around 6 to 12 months.
Generally it's a good idea to only prepare enough ink for 3 hours or so of use. Most catalyzed silicone inks begin to dry after about 6 hours, though the addition of a retarder can buy you a couple additional hours of printing time. If you've got a lot of catalyzed ink left over, you can store it in a container separate from the uncatalyzed ink, secure it with a plastic wrap cover and refrigerate. While opinions differ, the shelf life of leftover catalyzed ink appears to be no more than 72 hours.
When your print run is complete, clean the squeegees, flood bars and most importantly your screens immediately. The ink will continue to cure in the screen if left unattended.
Silicone inks are constantly evolving, so be sure to read all of your ink manufacturer's specifications and recommendations for use and storage. There are several different manufacturers to choose from, so it's a good idea to do some research and decide which one best meets your needs.
For more information about different types of screen printing inks, check out this blog posts:
(TH)INK Before You Screen Print
Essential Steps to Storing Your Screen Printing Inks