Exploring the Future of Screen Printing in an Increasingly Digital World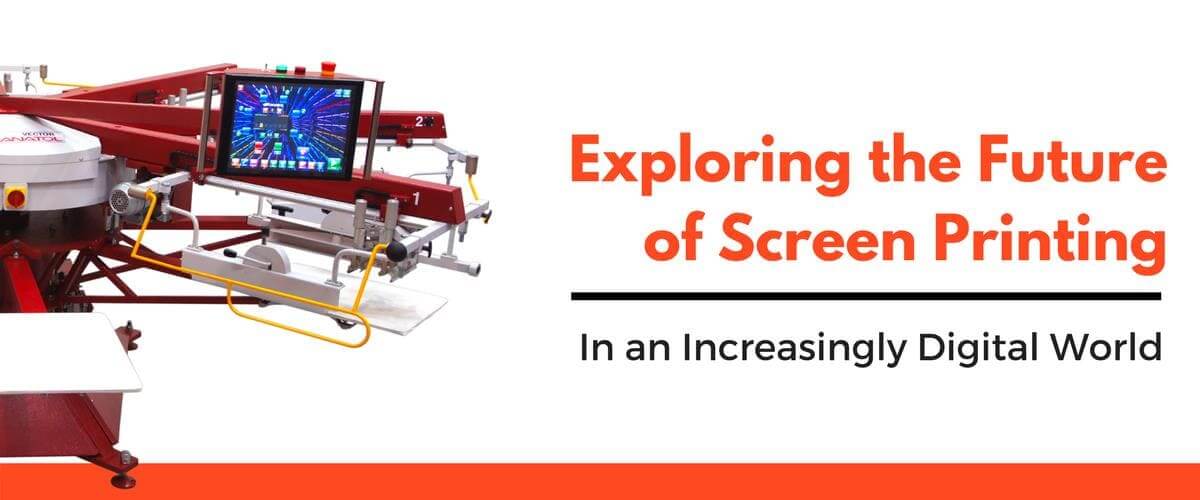 New advances in technology are helping screen printing keep pace with the rise of digital printing.
Screen printers rest assured, your preferred printing method isn't going anywhere anytime soon. While improvements in digital technology have made direct-to-garment printing a rival to screen printing for small batch orders, screen printing retains a decisive edge when it comes to high volume production, as well as the sheer variety of products that can be screen printed. Because both DTG and screen printing have their own unique advantages, print shops will continue to embrace both options to keep customers of all sizes satisfied.
Screen Printing Pre-Press is Easier than Ever
While the process of actually getting the ink onto the substrate is unlikely to fundamentally change in the near future (it's remained basically the same for hundreds of years), other areas of the screen printing shop are seeing new advances in technology. Computer-to-screen systems are beginning to take some of the work out of pre-press, eliminating the need to print film positives and helping create and register durable, high-quality stencils for sharper prints. Automation is also being applied to screen coating, giving users the ability to apply emulsion to their screens more easily and evenly than ever before.
Digital and Analog Press Technology Work Side-by-Side
Outside of screen preparation and onto the press itself, hybrid machines have begun combining the advantages of DTG and screen printing for maximum versatility. While the price tag of many of these new systems currently keeps them out of the hands of all but the largest print shops, it's exciting to see the potential for digital and analog technology working in harmony to let printers tackle orders of all sizes and descriptions.
As intriguing as hybrid machines are, even traditional screen printing machines are getting smarter all the time in efforts to save time, increase efficiency and operate more economically. There's a new standard among automatic screen printing presses; equipped with touchscreens as simple to operate as a smartphone (like Anatol machines, powered by the all-new Aries 2 operating system), some offer features like the ability to save and immediately recall complete job parameters, dramatically reducing setup times. Self-diagnostics and Wi-Fi compatibility are making it easier than ever to maintain equipment and eliminate downtime.
Automation Saves Time Even After the Print is Done
In addition to pre-press and on-press systems, even post-press activities are being aided by new developments. Automatic screen reclaiming systems have made their way to market that cut down on the labor and supplies necessary for washing out screens and getting them ready for reuse. Not only can systems like these save time and effort, they can also save money in consumables and keep you and your employees safe by reducing contact with potentially harmful chemicals. The possibilities for automation in the screen printing process appear virtually limitless, and over time the existing technology will only become more refined and more financially accessible.
It may be true that screen printing is no longer the sole contender for garment and promotional product decoration, but its existing benefits coupled with exciting new advances means screen printing is here to stay. The shop of the future will increasingly incorporate digital technology and automation to complement, rather than replace, the tried-and-true screen printing process.
Want to know more about screen printing's future possibilities? Check out this blog:
Industrial Screen Printing: A Bright Future Ahead
Interested in learning about screen printing's past? Visit: