Best Practices for Screen Printing on Hoodies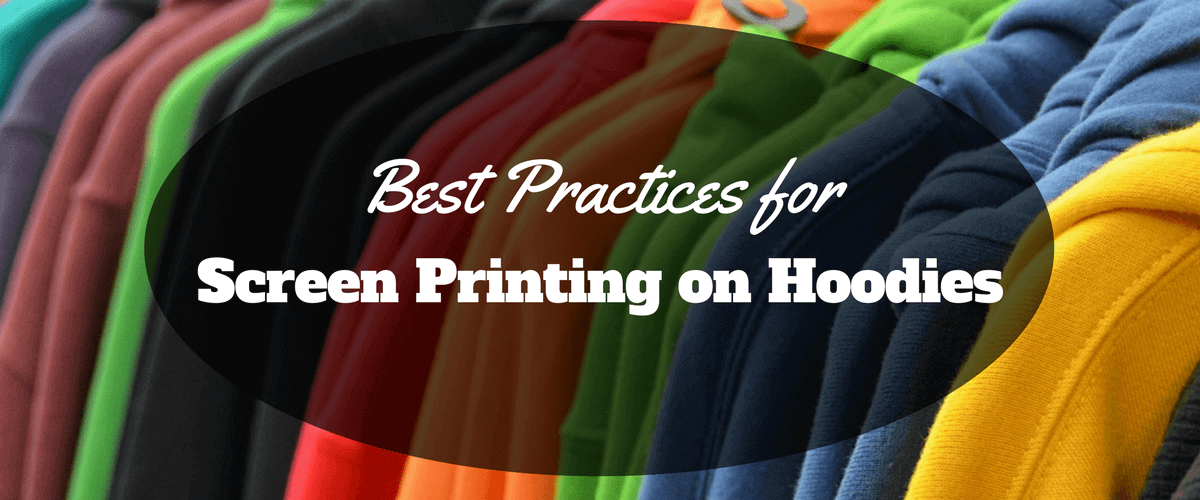 T-shirts might be the mainstay of screen printing, but when the weather cools down, hoodies are a popular choice.
Whether you're printing a traditional hooded sweatshirt or accommodating a trendier request to print a design over a zipper or pocket, you have to take some additional care when screen printing sweatshirts and zippered garments.
Over the next two blogs, we'll be offering tips for screen printing on hoodies and sweatshirts. In this blog, we'll focus on adjusting prints to avoid garment seams, pockets, zippers and hoods, and on successfully printing on the thicker, fleecier texture of sweatshirts. Next blog, we'll teach you how to master printing designs over zippers, buttons and seams for a trendier look.
With a few extra considerations, screen printing on hoodies and other fleece garments is relatively simple if you're avoiding design features, such as zippers, buttons, hoods and kangaroo pockets. You also have to compensate for the thicker texture of the garment and, potentially, the challenges of working with synthetic fabrics. Some things you will need to do to successfully print on hoodies and fleece include…
Adjusting the Artwork
Simple crewneck sweatshirts have fallen out a favor, and the garments they've been replaced with, such as hoodies, zip-up sweatshirts and quarter zips, all have design features that can interfere with screen prints. Before you print, you will need to configure the artwork so that garment features don't interfere. You might need to lower artwork on the back of a hoodie or the front of a quarter-zip sweatshirt, or artwork might need to be shrunk to fit between a collar and a kangaroo pocket. You might be able to span a zipper by cutting artwork in half and leaving a slight gap in the middle. It's also recommended that printers stick to simpler artwork when printing on sweatshirts. Because of the plush texture of the garment, sweatshirts are prone to shifting during printing, making registration difficult.
Preshrinking Garments
Most sweatshirts are synthetic blends, and 100-percent synthetic sweatshirts have become increasingly popular. These fabrics tend to shrink quickly when exposed to a high amount of heat, whether it's from a flash cure unit or a conveyor dryer. You may be able to avoid complications by running the entire batch of sweatshirts through the conveyor dryer before printing.
Increasing the Off Contact
Working with a thicker substrate means you will need to adjust your off-contact distance. You need enough room for your screen to snap cleanly off of the sweatshirt to create a clean, crisp print. The general rule is to double your usual off-contact distance when printing on a hoodie or other sweatshirt. Off contact should be around ¼ of an inch.
Flashing Between Colors
Because plastisol will sit on the surface of most sweatshirts, wet-on-wet printing is virtually impossible. That's why it's recommended that you flash between colors when printing on sweatshirts.
Curing at a Lower Temperature for Longer
You also might need to lower your curing temperature and conveyor dryer belt speed when curing screen prints on hoodies and other sweatshirts. The higher the synthetic content of the sweatshirt, the higher the risk of dye migration. That means the dye could bleed out of your substrate and alter your ink color if your substrate overheats. This usually can be prevented by curing at a lower temperature for longer. Even if dye migration is not a concern with your substrate, you might need to increase the curing time because the thicker sweatshirt material will hold more moisture, causing inks to take longer to properly cure.
Along with T-shirts, hoodies and sweatshirts are the lifeblood of nearly every screen printing shop. Achieving a good screen print on a hoodie or sweatshirt is relatively simple once you make the necessary adjustments. And in the next blog post, we'll show you how you can achieve a quality screen print over zippers, pockets and seams.
Looking for some more tips for printing sweatshirts? Check out Our Six Best Tips for Screen Printing on Fleece