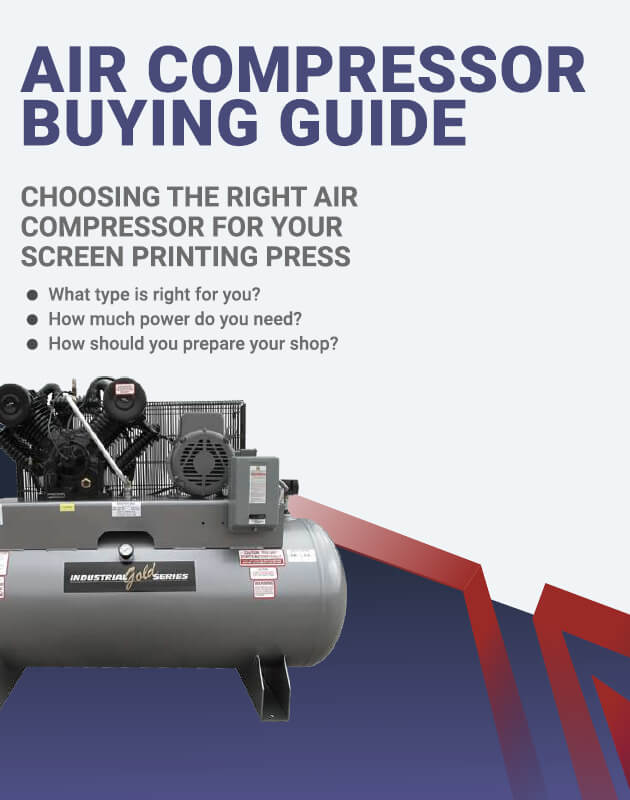 Choosing the right air compressor for your screen printing press is very important when it's time to add a pneumatically-powered press to your screen printing business. Which compressor is best for a screen printing press? When you make such an important purchase as a press, you want to know exactly which compressor is best to power it. In this eBook, we'll take a look at the most common types of compressors for screen printing presses:
Reciprocating

Rotary

Centrifugal
Learn the differences between them, which are most suitable for screen printing applications, and which are the most reliable. After you've chosen the type of air compressor, the most important factor you'll consider when selecting an air compressor to fit your screen printing press is power. You need to find an air compressor that will provide the right output of air so that the press will operate smoothly and efficiently.
It's also important to consider your screen printing shop's future when selecting an air compressor. Don't just consider the requirements of your current shop, think about what equipment you would like to add and how it will determine your compressor requirements in the future.
Посмотрите нашу полную линейку продуктов
© 2018-2022 Anatol Equipment Manufacturing Co. All Rights Reserved.
Your message was sent successfully. Thanks