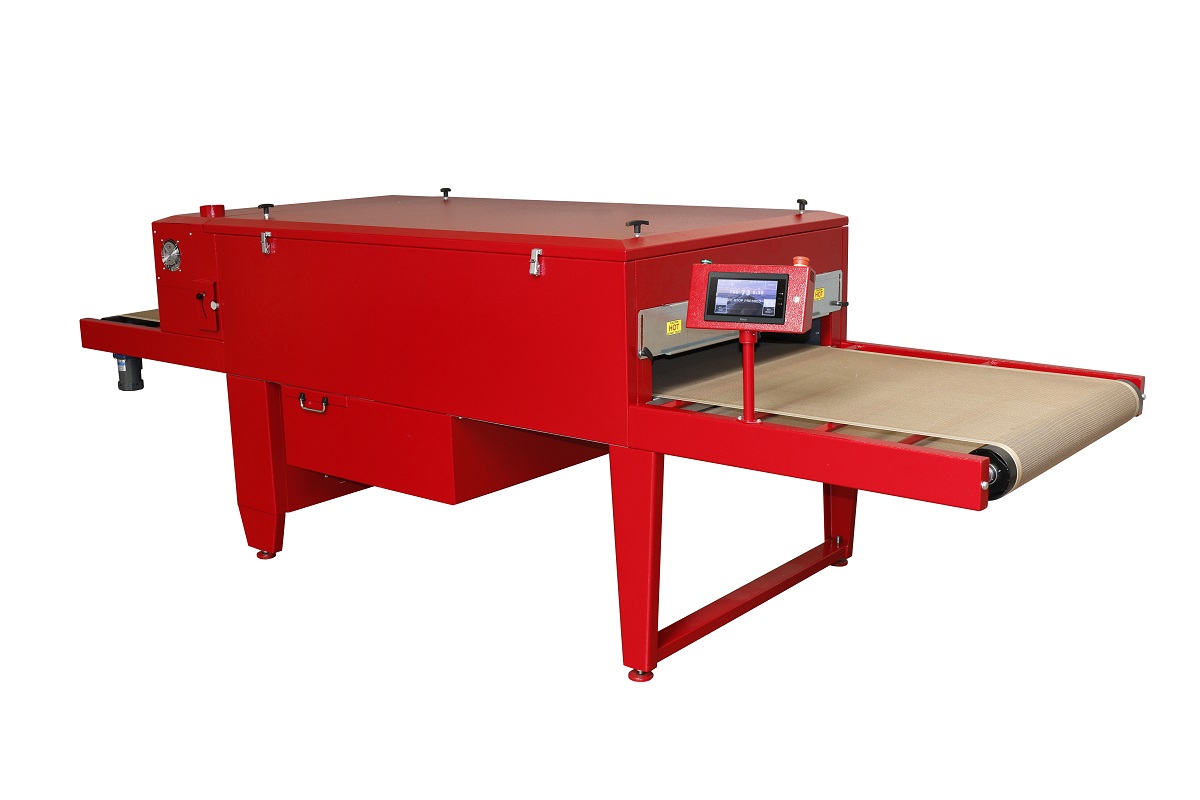 Ultra Electric Dryer
Anatol's Ultra forced air electric conveyor dryer is perfect for curing water-based and plastisol inks quickly and efficiently when gas is not an option.
Available in four different configurations:
Models available from 36" belt width/6' heat chamber up to 60" belt width/10' heat chamber
Панель управления
7" touchscreen control panel
Temperature control with accuracy of +/- 1°F
Set desired cure time and the dryer will automatically determine the proper belt speed
Save and recall up to 16 jobs for fast setups
Work Schedule mode allows you to program automatic startup and cool down based on the day of the week
View temperature and energy consumption plots in real time
Нагревательные элементы
5" blower exchanges air in the chamber over 12 times per minute to cure water-based inks quickly and efficiently
Long-lasting ceramic heating elements ensure even distribution of heat throughout the chamber
Overheating alarm warns you when dryer exceeds the temperature set by the user
Adjustable infeed/outfeed openings to accommodate a wide variety of substrates
Heating elements can be raised and lowered
Строение
Double wall construction with galvanized interior
Heavy-duty multi-section construction
Air cooled case keeps heat in and ensures the dryer stays cool to the touch
High efficiency thermal insulation keeps heat from migrating into the workplace
Ремень трансмиссии
Teflon-coated fiberglass belt for maximum durability
Heavy-duty conveyor rollers
Industrial-grade AC motor
Custom dryer sizes available
Infeed/outfeed extensions per customer requirements
Outfeed cooling fan to boost ink cooling when substrate exits the heat chamber
Model #
Belt Width
Heat Chamber
Overall Length
Standard Infeed/Outfeed Length
Wattage
Pieces per HR.
Ceramic Elements
Electrical Requirements
UED-3606-13000
36″
6′0″
11′0″
5′
13000 W
400-600
20
1 Ph, 208-230V, 50/60 Hz, 13kW, 64A
3 Ph, 208-230V, 50/60 Hz, 13kW, 37A
92cm
183cm
333cm
150cm
UED-3610-23400
36″
9′6″
19′6″
10′
23400 W
550-800
36
3 Ph, 208-230V, 50/60 Hz, 27.3kW, 72A
92cm
288cm
588cm
300cm
UED-4810-29250
48″
9′6″
19′6″
10′
29250 W
700-950
45
3 Ph, 208-230V, 50/60 Hz, 29.25kW, 83A
122cm
288cm
588cm
300cm
UED-6010-39000
60″
9′6″
19′6″
10′
39000 W
900-1200
60
3 Ph, 208-230V, 50/60 Hz, 39kW, 110A
152cm
288cm
588cm
300cm
Two-Year Limited Warranty
Every effort has been made to ensure the accuracy of the promotional information included in this brochure. Specifications are subject to change. Anatol Equipment Manufacturing Co. and its subsidiaries, if any, expressly disclaim any liability for damages, consequential or incidental, resulting from the purchase, transportation, installation, or use of any products based upon information contained within this brochure. Any rights or remedies are limited solely to those provided in writing by Anatol Equipment Manufacturing Co. at the time of sale.
Премиум-сервис, который превосходит все ожидания.
Мы ориентируемся на обслуживание и поддержку. Постоянно стремимся улучшить наше обслуживание, чтобы ваше оборудование идеально работало, как и в день установки. Это наше обязательство перед клиентами.
Региональные представительства
Anatol Equipment Manufacturing Co.
Head Office
Anatol Poland
European office
Anatol Ukraine
Ukraine Office
Anatol Latin America
Latin American Office
Get a Quote
Your message was sent successfully. Thanks