Save time and money by making exact off-contact adjustments before every job.
Off-Contact Printing: Getting it Right
As a screen printer, most of the work you'll do is off-contact printing. That means a tiny vertical space is left between the screen and the pallet below. When you print, the squeegee pulls across the screen and provides enough pressure for the screen to come in contact with and evenly ink the substrate below. As the squeegee pulls away, the screen also pulls off of the substrate cleanly. The proper off-contact distance depends on many variables, from the ink you're using to the type of material you're printing, but the usual recommendation is to have as small an off-contact as possible. For t-shirts, the recommended off-contact is generally 1/16 of an inch, while thicker materials like sweatshirts have a recommended off-contact around 1/8 of an inch.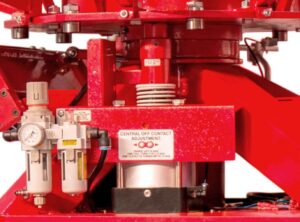 Anatol's gauged click-type central off-contact (shown here on a Titan)
lets you make adjustments as fine as .005″ without requiring any tools
What Can Go Wrong?
It's hard to overstate the importance of proper off-contact. Without it, the quality of your finished print can suffer in a variety of ways. If your off-contact distance is too small, the screen will come in too close contact with the substrate. That can smudge and smear the finished print, or the screen itself can stick to the shirt. When the off-contact is too great, the print might look stretched, as the force of the squeegee presses and elongates the screen during the printing process.
Improper off-contact can give you a lot of headaches. It can cause the final product to be smudged or blurry; ink can be uneven, bubbled and blotchy on the shirt; and colors can fail to match up properly. It can be difficult to compensate for poor off-contact to get a final product you can feel confident handing off to your customers. If you're not careful adjusting your off-contact, you can waste a lot of time trying to correct sloppy prints and waste a lot money throwing away misprints.
Finding the Perfect Distance
Correct off-contact is a matter of proper press setup. Before each project, the off-contact distance should be checked and set to fit the substrate below. On many screen printing machines, setting the off-contact is usually done with knobs or wrenches. It can be time-consuming, but it's worth the effort to ensure you're set up for successful printing.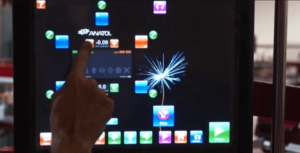 With the all-electric Anatol VOLT screen printing machine, you can adjust
off-contact digitally right from the touchscreen, in increments of .001″
Because Anatol knows how important proper and consistent off-contact distance is, all of our screen printing presses are designed for fast, easy and accurate off-contact adjustments. From our smallest manual to our industrial-sized automatic presses, our screen printing machines are equipped with tool-free off-contact controls. Our standard automatic presses feature gauged click-control off-contact settings that let you adjust all heads at once easily by hand, no tools required. Our all-electric VOLT makes things even easier. With industry-exclusive digital off-contact, you can make adjustments as fine as .001" right from the touchscreen. All it takes is the press of a button to set exact off-contact uniformly across all print heads.
Want to learn more about how Anatol's precise off-contact can make your setup easier and your printing better? Let's have a conversation – we're always ready to talk screen printing!