Add an Extra Dimension to Your Screen Printing with Puff Ink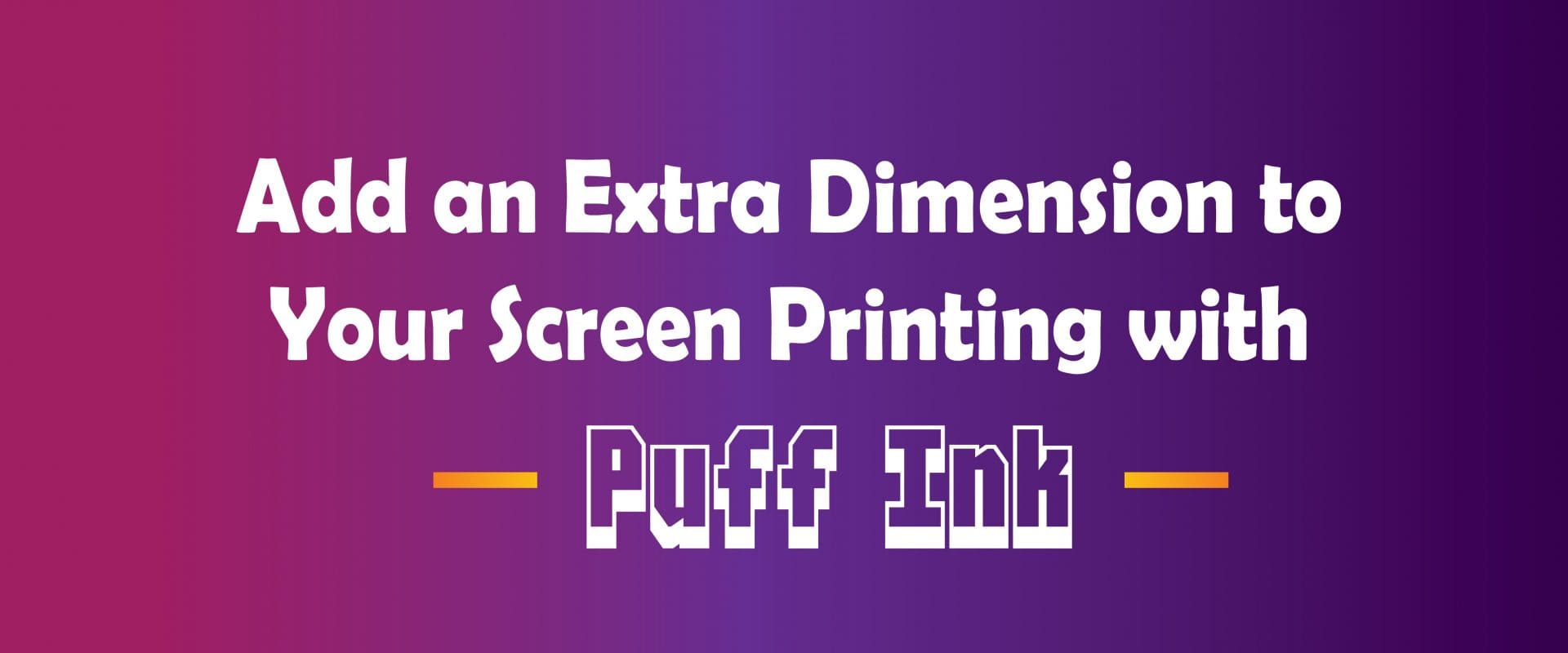 Puff printing is a tried-and-true special effect that can help you create eye-catching designs that stand out from the pack.
Puff ink basics
Puff ink isn't really an ink in and of itself: It's an additive. The puff additive is stirred into your plastisol ink before printing. It prints flat, then "puffs" when it reaches around 320 degrees Fahrenheit, generally during a trip down the belt of a conveyor dryer. The recommended amount of additive depends on which puff ink you purchase, but the more additive you mix with your ink, the more dramatic the puff effect. Also, the more ink that's deposited on the garment, the greater the puff.
Uses for puff ink
With contemporary designs, using puff ink is more about adding an interesting accent to an overall design rather than creating a full-on 3D statement. Some creative uses of puff ink include:
• Highlighting one element. One of the most common uses of puff ink is creating one raised element in an otherwise flat design. Some examples include bright red lips on a black shirt, a basketball or football in a sports logo or tire tracks on a racing shirt.
• Making text. Another option is to print your text in puff ink. This can make an event or brand name stand out of a larger image. On an all-text garment, puff ink can be used as a highlight to the text or as an outlined layer of text.
• Accenting a graphic. Make a graphic pop by using puff ink for one color in design. The puff ink will add depth and texture to the overall graphic, transforming a regular screen print from a flat image into an interesting piece of artwork.
• Adding all-over texture. While the days of printing every color in puff ink are gone, some printers enjoy using a puff underbase to give the entire graphic some texture. You can change the effect by printing puffed dots, puffed square or other puffed shapes as your underbase then printing in your desired colors over them.
How to print with puff inks
The actual process of printing with a puff ink additive isn't any different than printing with your regular plastisol inks, but you will need to make some adjustments to make sure that the ink puffs to achieve the effect you want. Some things you need to know when printing with puff inks include:
• Don't use puff additive when screen printing fine detail. Some of the detail of your print will be lost when your ink puffs up in the dryer. While some level of image detail is possible to achieve with puff inks, images with extremely fine detail will be lost.
• Don't print abutting colors. Similarly, puff ink doesn't work when printing two colors that register right up against each other. The fine edge will be lost to the puff effect.
• Plan to lay down more ink. To get a good puff effect, you need to lay down a fair amount of ink. Create thicker stencils for your puff ink images, and use lower mesh count screens.
• Prepare for color loss. Because puff ink is an ink additive, it will dilute your plastisol ink color. Prepare for this either by starting with a bolder ink color than you plan to use, or if you're color matching or trying to achieve a brighter color, lay down your puff additive/ink mix, flash the ink lightly without activating the puff additive, and print another layer of undiluted plastisol ink.
• Don't over cure your puff ink. Be careful to follow the manufacturer's instructions on curing your puff ink. The range for curing puff ink is small; if you over cure puff ink, the ink will deflate and ruin the raised effect.
 Puff ink can be a great addition to your ink stores. Puff additive can create interest to your designs, and it can add another option for your customers allowing them to further customize their images. And fortunately, printing with puff ink is relatively easy and doesn't require the addition of any specialized equipment in your screen printing shop.