Choosing the Best Suppliers for Your Screen Printing Business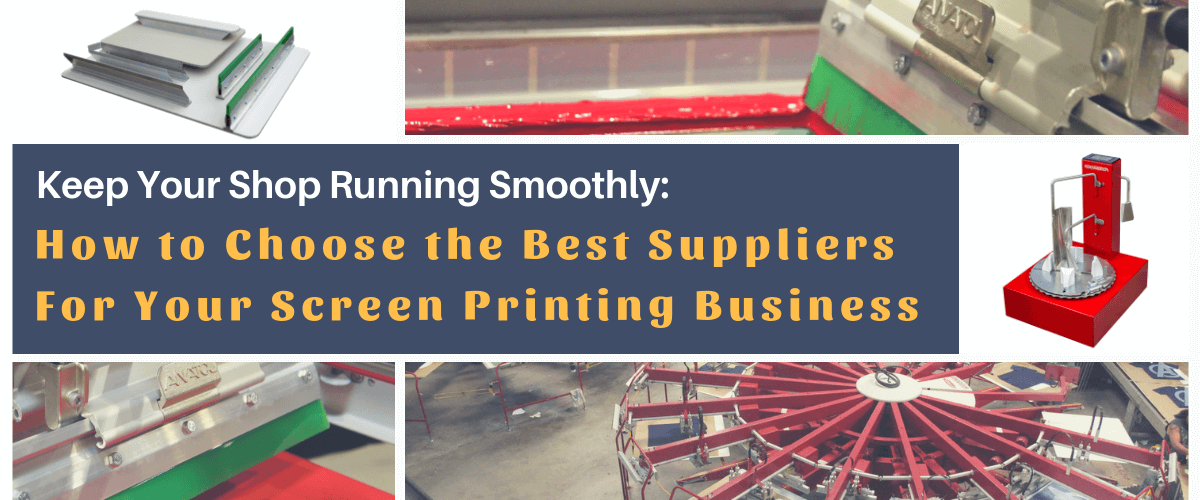 To succeed in your screen printing business, you need to meet your customers' demands. You need to be able to provide your customers with quality screen printing, delivered on time – that doesn't only require screen printing equipment, but also a wide variety of supplies, from squeegees, screens and adhesive to ink, emulsion and reclaiming chemicals. To achieve top notch screen prints with a quick turnaround time, you need to choose suppliers that you can depend on to keep your screen printing shop running smoothly. With all of the suppliers available to you, here's how you can select the best screen printing suppliers for you shop.
Set the criteria for your screen printing suppliers
What you value most in your suppliers will depend on the needs of your screen printing shop. Cost, of course, is always a primary consideration, but the lowest price doesn't necessarily serve your business well if great prices aren't balanced with your other needs. For some shops, the variety of products offered by the supplier might be the most important consideration. Others might seek a local supplier who can deliver supplies same day to meet customer demands for rush screen printing jobs. As you begin considering your options for suppliers, you need to sit down and consider what matters most for your screen printing business. When you decide on your priority criteria, you can start to narrow down the list of suppliers to the most ideal candidates.
Put out a request for proposals
As you home in on your desired criteria for suppliers, draft a request for proposal. This document will outline precisely what you're looking for in a supplier for your screen printing shop. Circulate the proposal to suppliers you think would suit your screen printing shop. While a request for proposal will help you pin down prices from potential suppliers, it also will help you to get a feel for the level of service each supplier provides. Ideally, a potentially supplier will respond promptly to your request for proposal and will take time to touch base with you personally to ask questions before submitting their proposal. If a potential supplier is sensitive to your screen printing business's needs during the proposal process, they likely will be conscientious when meeting your needs as a customer.
Choose a supplier who will partner with your screen printing business
You want to choose a supplier who meets the criteria you first identified as most important for your screen printing business. In addition to choosing that criteria, however, consider the relationship you will have with your supplier. The best suppliers view themselves as your business partner. They know how important their role is in your business's success, and they know their success depends on yours. A good supplier will be able to match you with the products you need and take a consultative approach, thanks to their knowledge of their products and their knowledge of your screen printing business.
Monitor your suppliers
Once you've chosen suppliers for your screen printing business, it's important to monitor your relationship with your supplier. Are they consistent on pricing? Do they deliver when they say they will? Do they have the products you need in stock when you need them? Even if your supplier has proven reliable, things can change, and it's important to know where you stand with your suppliers. If you find that a supplier isn't delivering as promised, or if they are impeding your ability to operate your screen printing business successfully, it's time to consider exploring new suppliers. It's a good idea not to keep all your eggs in one basket; always have a backup supplier in mind in the event your main supplier is unable to meet your needs.
Suppliers are an integral part of your screen printing business. Finding the right supplier can have a direct impact on your business's success. Take the time to determine what you need from your suppliers and to find suppliers who will meet those needs and support your business.
Want some more helpful tips on ensuring you can provide your customers with quality screen prints and a quick turnaround time? Check out these blogs:
7 Tips for Reducing Turnaround Time at Your Screen Printing Business