7 Ways to Grow Your Screen Printing Business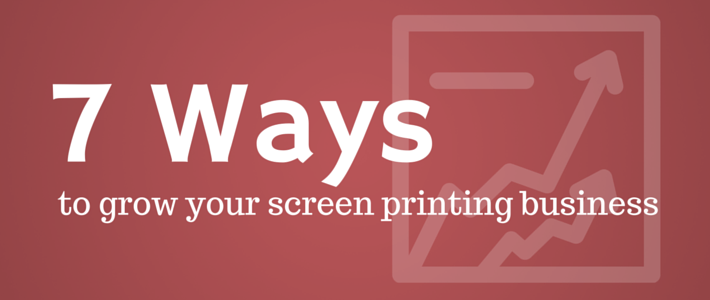 One of the best ways to promote your screen printing shop is to do what you do best: print!
1. Be Customer Friendly
Almost everyone has had a bad business experience, whether it's witnessing a mistreated customer or being that customer. But there are ways to keep that negativity out of your business model. If you're knowledgeable, helpful, friendly, polite and flexible, you're likely to get repeated business. Do anything you can to meet your customers' needs within reason. You may not have what every customer is looking for, but guiding them in the right direction gives you a lasting impression as a helpful, accommodating business.
2. Network
Networking with others in the screen printing industry can be very helpful towards building your business. The screen printing industry is a highly competitive market. It helps to get involved with the community – attending trade shows and participating in online forums can open doors for your business as well as keep you up to date on all the latest trends in the industry.
Maintaining a presence among local businesses is another good way to network with like-minded individuals. These local businesses could potentially become dependable customers; they may like how your shirt looks and ask you to customize some garments for their business. For example, a customer who wants jerseys printed for their local softball team would probably prefer having them made locally. Having a strong local presence will make you the go-to screen printing shop in your area.
3. Promote Your Prints
Bring the best quality samples of your work to trade shows and other events to build your reputation as a capable screen printer. A custom garment designed and printed in-house is a great form of promotion for a screen printing business. Becoming a "walking billboard" for your business has never been easier if you're a screen printer, and good samples are sure to catch the eye of potential customers.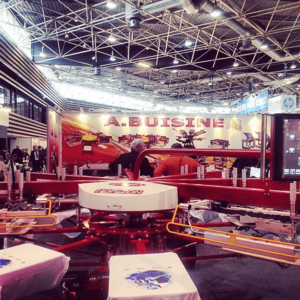 4. Use Social Media to Connect
In today's world, active social media accounts are very important tools for helping connect your business to its customers. With the dramatic shift from print to digital advertising, social media should be a key component to your business model. Social media offers you a big opportunity to promote your screen printing business in many ways. Posting pictures of your production runs is an easy way to catalog your work for potential customers who visit your page. A well-maintained Facebook or Instagram page can help you establish an image and personality for your business and bring some transparency to your printing process. Show off your best work and how it's created. Post pictures of your shop, your screen printing equipment and your nicest prints, keep your followers updated and encourage them to engage. Staying active with valuable content is a great way to keep in touch with your market and grow your screen printing business.
5. Be Unique
What sets you apart from other screen printing shops? Do you specialize in a specific style that your customers can't get enough of? Do you offer deals that your competitors can't beat? It's important to make an effort to set your screen printing business apart from others in a positive way. A unique approach may not attract all of the customers you want, but it will definitely appeal to customers who appreciate your niche of garment customization. At the same time, it's good to be well-rounded, so don't focus so heavily on one specialty that your other skills diminish!
6. Keep Up With Your Community
If you want to attract more business, it's a good idea to keep your finger on the pulse of your community. Every special event or new business opening in your area is a great opportunity for you to provide promotional products. Check the local news or your chamber of commerce for upcoming events – the hosts may be in need of your services! Try to keep up a detailed picture of the opportunities in your community and always be on the lookout for new potential customers. Once you've identified them, use the rest of the tips in this article to reel them in!
7. Make a Deal
Promotional offers are a surefire way to keep your print jobs coming. A price break may be all it takes to sway certain customers who were on the fence between you and your competitor. Simple calls-to-action like "Call now and receive 20% off your next order" can bring in customers that would otherwise look elsewhere. But make a conscious effort to avoid flooding potential customers with promotional offers. You don't want to look desperate, or worse – spammy.
And Don't Forget…Be Yourself!
Don't force it. Despite your best efforts, you can't meet the needs of everyone who wants custom printed garments. Remember what it is that sets you apart from others? Well your competitors may have what you don't, and that's okay. Focusing on the strengths of your business will sharpen your skills as a screen printer and help you gain respect in the industry.
Even if you make the highest quality prints, you can't just sit back and wait for customers to find you. These steps will help you build and maintain a good standing in the screen printing industry, attract new clients and keep your existing customers coming back for more.
Let Anatol supply the equipment you need, then use these tips to maximize your shop's potential. Remember, if you can print it, they will come!
Looking for more tips to help give your business a boost? Check out the sequel to this blog: